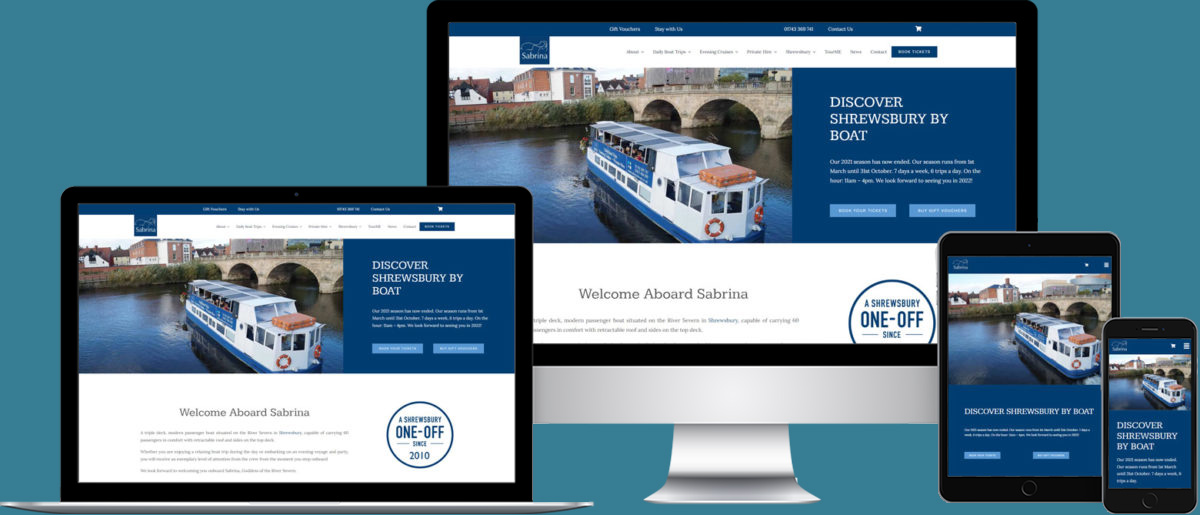 Great content sells, and we've proved it. Our content has leveraged millions of pounds of funding, drawn countless new customers to our clients and built a legion of brand loyal fans.
Are you looking to supercharge your content creation?
Call us on 0330 133 4313 or send us a message.
RECENT EXAMPLES
LATEST CONTENT WORK
We produce compelling web copy, engaging video, and immersive apps to keep you a cut above the rest. We show off your best side; creating on-brand, authentic content that guides and informs, inspires and that helps more people find you.
Take a look at some of recent content marketing projects.
COPYWRITING
ORANGE AMPLIFIERS
Getting down to the nitty gritty of amplification technology and the history of popular music.
VIDEO PRODUCTION
ALBERT'S SHED
Straight to the heart video journalism for one of the fastest growing music venue brands in the UK, Albert's Shed.
COPYWRITING
SABRINA TOURS
Cementing one of Shropshire's most loved tourist destinations as the unofficial voice of the River Severn.
"A unique approach to marketing with a first-rate knowledge of SEO. Tailored service to your needs, no 'one size fits all' solutions here."
– David Gregg, Albert's Shed
HOW WE CAN HELP
OUR CONTENT MARKETING SERVICES
KEY QUESTIONS FOR SUCCESSFUL
CONTENT MARKETING
Content marketing isn't just about creating compelling copy or a creative video. It's about really getting under the hood of your brand, and developing an effective strategy that sells. Below you'll find some of the questions to tease out content gold.
ROI
What does success look like to you and how can you measure performance and prove Return on Investment?
TARGETING
Who are your target audience? What motivates them? How do they spend their time online?
POSITIONING
How can we use what we learn to craft your brand positioning and target the most effective channels?
CHANNELS
What digital marketing channels are best suited for your audience and your brand position? What is feasible within your budget range to enable you to meet your goals/KPIs? How does the customer journey relate to your channels and what ways can you improve them to lead to more conversions?
LEVERAGE
What approach to content aligns with your brand positioning? Do you have in-house content creators or would you need to outsource? What is the minimum viable output of content needed to deliver your strategy? How can we leverage your content to achieve the long-tail effect across paid for, earned, and owned media?
CONTENT
What's going on in the world that may impact your digital marketing strategy? How can you use turbulence or stir up the market to make competitive gains?
Who are your direct and indirect competitors? What threats do they pose and how can you leverage your digital marketing strategy to get ahead of the race?
"Incredibly inventive, creative and professional with forward-thinking marketing strategies that will guarantee to put your business on the map!"
– Katie Romney, Inspired in Spirit
HOW WE WORK
OUR CONTENT MARKETING PROCESS
No two businesses are the same, even if they compete in the same sector. That's why we always start from the ground floor and work our way up. You can find more about our content marketing process below.
1. LEARN
Getting to know about you, your business, your audience and what you want to achieve.
2. DESIGN
Putting together ideas and reviewing them before we move forward to production stage.
3. CREATE
Taking the ideas deemed to have the biggest impact and converting them into content gold.
4. REVIEW
The best content is continually reviewed and evaluated, that way we can learn from our successes.
TALK TO US
To discuss your project you can fill in the request form below. If you'd prefer to have a chat about your project simply give us a call:
0330 133 4313
Does Content Marketing Matter?
StoryThreads
2021-08-23T16:30:09+00:00
Content Marketing might sound like the new kid on the block but it's something that marketers and salespeople have been doing for years, just under a different guise: Storytelling.
Content in the traditional marketing mix would form part of the overall strategy, delivered across all channels. The crux of the storytelling ultimately leading to the hook that closes the deal.
But the hard sell has lost some favour. Mistrust in brands means a longer time is spent identifying where to make a purchase, even for day to day items.
Thanks to digital marketing reaching out is a relatively low cost, meaning more opportunity to develop brand awareness. Once seen as a 'nice to do' exercise, brand awareness is now mission-critical even for SMEs. Increased positive exposure to a brand builds trust eventually leading to new customers.
How Does Content Marketing Earn Credibility?
StoryThreads
2021-08-23T16:31:39+00:00
How content marketing earns credibility
Credibility doesn't come for free though, it's earned.
Experts in crafting compelling content, StoryThreads build on your brand's identity, promoting a true representation of your business. We take the very essence of what your brand is about, along with your target audience's online behaviour, stitching together content that tells your story in the best light.
The output of content creation depends on the goal and can come in many forms. Examples include infographics to online guides, video storytelling, and apps that merge the real world with the digital realm.
StoryThreads are one of Shropshire's most trusted content marketing agencies. Our feet are firmly on the ground; we're strategic-focused on how we can best achieve your goals within budget.