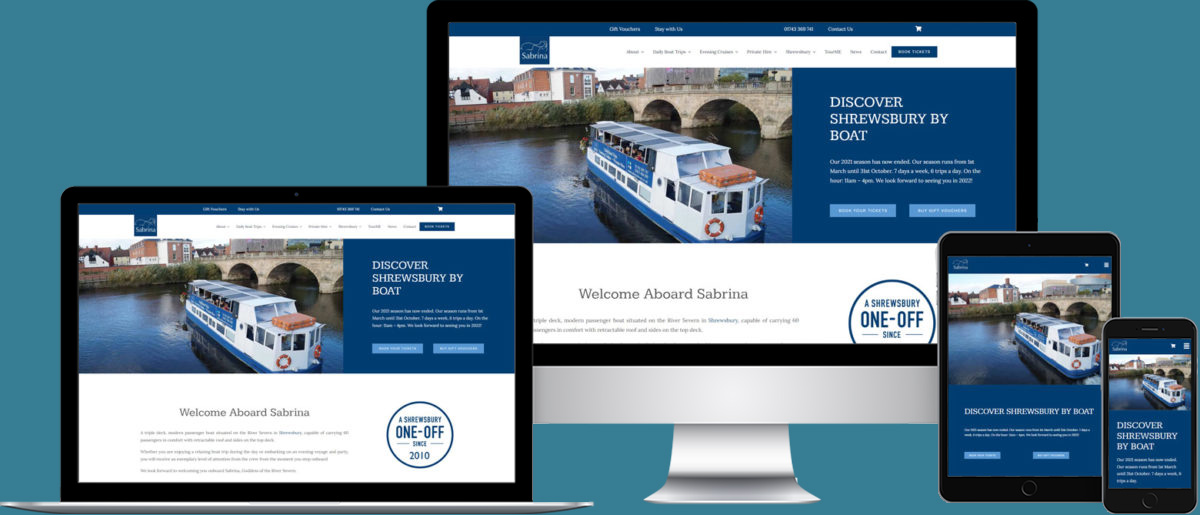 Want to make more of your advertising budget?
As specialists in PPC and conversion optimisation we build ads that are not just well targetted but compel people to take action.
Want to discuss a project? Call us on 0330 133 4313 or send us a message.
RECENT EXAMPLES
LATEST PPC WORK
Below you'll find some examples of how our PPC services have helped our clients. We're passionate about helping small businesses grow online and to support larger businesses continue to excel at what they do best. And we'll go above and beyond to make that happen.
GOOGLE ADS
STEVE DELL HYPNOTHERAPY
Cutting the cost of conversion by intelligently targeting new clients through keyword research and compelling copy.
SOCIAL ADVERTISING
ALBERT'S SHED
Using Facebook and Instagram targeting tools to reach more customers that would normally be difficult via organic reach.
REMARKETING
SABRINA TOURS
Using Google Remarketing, Sabrina Boat operators were able to stay in continuous contact, softly encouraging repeat visits.
"A unique approach to marketing with a first-rate knowledge of SEO. Tailored service to your needs, no 'one size fits all' solutions here."
– David Gregg, Albert's Shed
CHOOSING THE RIGHT
PPC PLATFORM
We provide PPC services for all types of businesses too, big or small. From local campaigns to national and international PPC. We understand how difficult it can be to reach customers affordably. It's a highly competitive market and that's why working with an PPC agency is worth the investment. We have the experience, market know-how and are at the forefront of understanding the latest advertising trends.
GOOGLE REMARKETING
If a visitor leaves your site, then you'll be able to target those people on other pages.
GOOGLE SEARCH
At the top of every Google search page, you'll find paid-for listings, this is prime real estate for marketers.
GOOGLE SHOPPING
Like Google search but instead, it will feature your product image and price.
GOOGLE DISPLAY
These are like traditional banner ads that can appear as text or as an image on other websites.
YOUTUBE
Ads can appear at the start or during a stream and also in YouTube's search results.
BING/YAHOO!
A lower cost pay per click model and come in useful for highly competitive keywords.
"A unique approach to marketing with a first-rate knowledge of SEO. Tailored service to your needs, no 'one size fits all' solutions here."
– David Gregg, Albert's Shed
HOW WE WORK
OUR APPROACH TO PPC
Every website is different, that's why we look at each SEO project as a unique entity to ensure no stone is left unturned.
1. LEARN
Getting to know about you and your business and what you want from our PPC services.
2. AUDIT
Production of an PPC audit and prioritisation of the scheme of works.
3. REPORT
Monthly discussion and reporting, ensuring you're getting the most from our services.
4. REVIEW
Quarterly reviews to check against your business priorities and make sure we're maximising your invest.
TALK TO US
To discuss your project you can fill in the request form below. If you'd prefer to have a chat about your project simply give us a call:
0330 133 4313
Does PPC Work Alongside Other Channels?
StoryThreads
2021-08-23T16:31:09+00:00
What if we told you that PPC on its own was a bad idea.
Sure you can get quick wins but the key to great digital marketing campaigns is not just PPC.
There are three pillars to media marketing: paid for, earned, and owned.
We've discussed already paid for advertising and the benefits of a PPC campaign. But what about the content on your website? This has the potential to become long-tail content. You take the essence of your message, repackage it and putting it back out as advertisements. What's great about this approach is you'll discover what your audience actually cares about.
You can feed that insight back into your evolution loop.
Paid media also can be used to influence earned media (publishers and influencers). They produce content in exchange for ad revenue. That way you'll have short and long-form promotional content wrapped together.
Should You Be Investing In A PPC Agency?
StoryThreads
2021-08-23T16:33:07+00:00
PPC came about very quickly in the early days of the internet but has been dwarfed by the rise of content and social media. Yet, PPC  is a highly cost-effective advertising tool. It's used to reach your target audience on websites and search engines. You'll only pay if someone clicks on your ad.
Not only can you choose how much you want to spend, but insight is available. That means you make adjustments to improve the effectiveness of your ad. On some platforms such as Google Ads (AKA Google Adwords), keyword tools can help identify missed opportunities. This is where a PPC agency comes in. We can help you achieve a higher conversion rate at a lower cost.
Unlike traditional adverts in newspapers or magazines, PPC makes it possible to run multiple instances (A/B testing) of a campaign at the same time. This means you can see what design and content work best to make a click happen. Tracking cookies are used to show how your advert performs once the user is on your website.