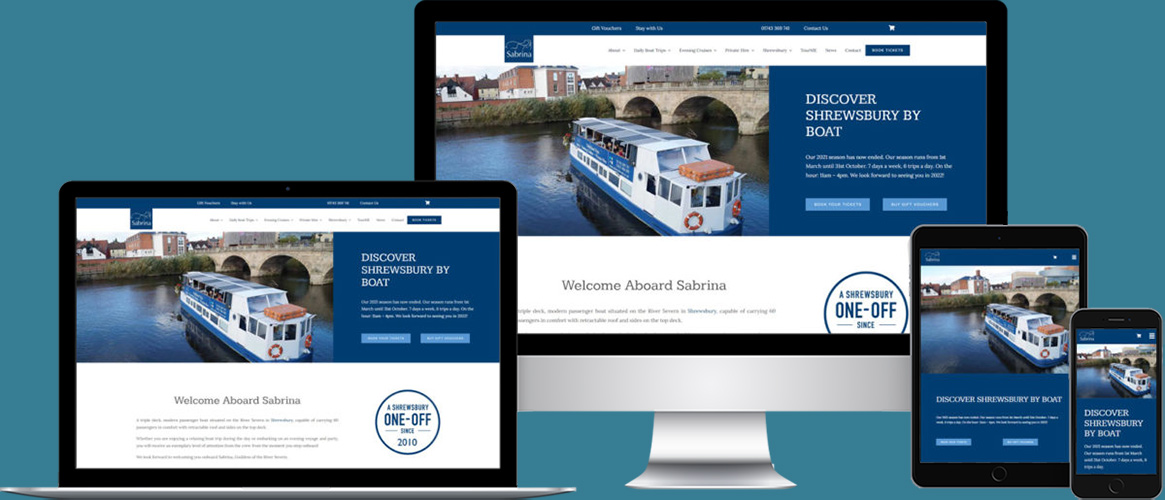 DIGITAL MARKETING STRATEGY
We're behind some of the fastest growing brands in Shropshire and are branching out. Our team of industry experts have a deep knowledge of how to design a winning digital marketing strategy, from start-ups to established businesses.
Want to discuss a project? Call us on 0330 133 4313 or send us a message.
RECENT EXAMPLES
LATEST DIGITAL STRATEGY WORK
Below you'll find some examples of how we've helped our clients with their digital marketing strategy. We're passionate about helping small businesses grow online and to support larger businesses continue to excel at what they do best. And we'll go above and beyond to make that happen.
IN-HOUSE MARKETING
ALBERT'S SHED
Working in partnership to develop digital strategies with one of the fastest growing music venue groups in the UK.
START-UP SUPPORT
THAI-D FOOD BAR
Full digital marketing support for hugely popular Shrewsbury-based restaurant start-up, Thai-D Food Bar.
DIGITAL TRANSFORMATION
SABRINA TOURS
Analysis and redesign of online strategy for Shropshire's most loved attractions, resulting in exponential growth on digital sales.
"A unique approach to marketing with a first-rate knowledge of SEO. Tailored service to your needs, no 'one size fits all' solutions here."
– David Gregg, Albert's Shed
HOW WE CAN HELP
OUR STRATEGIC SERVICES
"StoryThreads graps a solid understanding of your marketing objectives and is able to create high quality content to promote your organisation across varied channels. Great people to work with."
– Alex Byles, Control Techniques
KEY QUESTIONS FOR A SUCCESSFUL
DIGITAL MARKETING PLANNING
Marketing plans don't need to be written in long form. In fact, huge marketing plans fail because they're almost impossible to update. Below you'll find some of the key questions to answer that will guide you to marketing success.
GOALS
No business can operate effectively without being able to measure success. What does success look like to you and how can you measure performance?
AUDIENCE
Who is your target audience? What motivates them? How do they spend their time online? How can we use what we learn to craft your brand positioning?
MARKETS
How can you use turbulence or stir up the market to make competitive gains? Who are your direct and indirect competitors? What threats do they pose?
CHANNELS
What digital marketing channels are best suited for your audience and your brand? Is your website designed as an endpoint? What is feasible within your budget range to enable you to meet your goals? Will you be using advertising or building organically? How does the customer journey relate to your channels?
CONTENT
What approach to content aligns with your brand positioning? Do you have in-house content creators or would you need to outsource? What is the minimum viable output of content needed to deliver your strategy? How can we achieve the long-tail effect across paid for, earned, and owned media?
ACTION PLAN
How do you ensure your digital marketing strategy stays on track? What is the plan for the next 100 days? What does the long-term digital marketing strategy action plan look like? What should the roadmap look like? How can we empower your team to take the lead?
TALK TO US
To discuss your project you can fill in the request form below. If you'd prefer to have a chat about your project simply give us a call:
0330 133 4313
What Makes A Digital Marketing Strategy A Success?
StoryThreads
2021-08-23T16:33:33+00:00
Digital marketing strategies often become outdated before they're complete. Even worse, they cost a lot of money and take up a lot of time. A good strategic marketing plan is clear, concise, actionable, measurable, and can easily be updated.
A strategic marketing plan needs clarity. Everyone should be able to follow it. It means your goals will be met efficiently, which means less cost. Keep things concise. Make your strategy digestible; make it the beating heart of your business.
If there are lots of hurdles, your digital marketing strategy will slow down in pace. You may find it gets abandoned altogether.
A digital marketing strategy needs to be easy to manage. Accountability comes through setting and measuring goals. Make sure your goals are realistic, because you can always change them later.
Your strategic marketing plan needs to be easy to update. We're blessed by a plethora of analytics and customer feedback available online at every stage of the customer journey. This should feed back into your strategy.
Why Is Digital Marketing Strategy Important?
StoryThreads
2021-08-23T16:31:25+00:00
Digital marketing strategy to some feels like effort without value. We agree marketing strategy has a bad rep. It conjures up the idea of endless meetings, expensive research, and eventually to the conclusion you had all along.
CEOs, MDs and senior management like the long planning process, it's accountable. On the opposite end of the spectrum though is gut instinct. There's no way to measure gut instinct and communicating that fag packet strategy can be confusing. The cost is the loss of clear brand positioning.
Brandgym's David Taylor talks of a strategy reboot for digital marketing. So instead of focusing on the latest channels and tools without a clear plan, strategy comes first. This supported by their survey of 100 senior marketing professionals of which 62% said digital marketing strategy is overlooked. 91% said clear brand positioning was the key to marketing effectiveness in digital.