Taking a single pronged approach to eCommerce marketing works, but is it sustainable? While paid search gets you to the top of Search Engine Results Pages (SERPs) there is a drawback. Stop investing in advertisement and sales drop. That's where an eCommerce SEO audit comes in and helps you take the number one position.
This eCommerce SEO guide covers everything you need to know about auditing your SEO for eCommerce websites. We also cover all the tools you need to put into practice for your online store.
What is eCommerce SEO?
SEO or Search Engine Optimisation is a method of optimising websites and web pages to appear higher in SERPs. It's about visibility. Put simply, when someone enters a relevant term in a search engine be that by text or voice, results appear. SEO experts sculpt those results using eCommerce SEO techniques.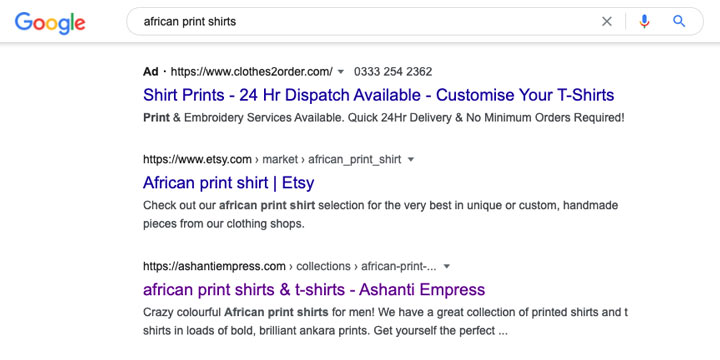 What's the difference between eCommerce SEO v SEO?
There are a lot of similarities between the two, but the main difference is that eCommerce SEO requires more work. Your focus is on optimising headings, product metadata and descriptions for products. But you'll also want to focus on static pages too like you would with regular SEO.
One big difference between the two is that eCommerce SEO has a secondary function. Ultimately you want visitors to convert (buy the product). That means promoting the brand & accurately describing the product. Search engines like Google reward high-quality content, because they're measuring a visitors response to that page.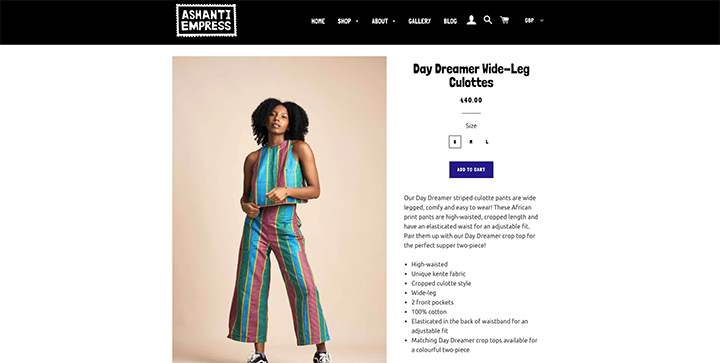 What are the three steps to successful eCommerce SEO?
There are three stages to SEO (this applies to eCommerce websites as well), they are:
On-site SEO covers most of the areas we mentioned above. It's about making the best user experience possible for your customer
Technical SEO is the hardcore end of SEO and covers things like site speed, 404 errors, duplicate URLs, hosting issues and so much more.
Off-site SEO is probably the most difficult and time-consuming area of SEO. If it's done right the benefits are tremendous.
Is SEO important for eCommerce?
To answer this question you really have to consider the alternatives to SEO for your eCommerce business. Let's start with paid advertising.
According to WordStream (using Google Ads data), the average click-through rate for eCommerce in search is 2.7%. The average cost per click for search was around £1. No consider display advertising. The click-through rate is much lower at 0.5% but the average cost per click was about £0.40. Conversion rate is around 2.8% for search and 0.6% for display ads.
OK, so what does that all mean?
For eCommerce sites selling low value, single intent purchase products making Google Ads work for you is going to be tough. The real benefit from Google Ads is customer lifetime value. That is someone discovering your brand and coming back because of a great experience. For high-value products, of course, Google Ads is a no-brainer.
Now SEO is a much more intense process, but the click-through rates are much higher. As this piece of research suggests, you can expect to see a CTR of between 3% and 40% for page 1 ranking. Now conversion rate on average is 2.5% but those in the top 10% of Google are converting at above 10% according to WordStream.
Keyword research for eCommerce sites
A great eCommerce SEO strategy starts with keyword research. You want to ensure you're picking the right keywords that are worth your time. Going for the wrong keywords can bring unwanted traffic. This leads to low conversion rates or a negative impression of your brand.
Product keywords
These are directly related to your products. They can form part of your homepage, product categories, the products themselves or your blog posts. Make sure the keywords have medium-high search volume, are relevant and don't have too much competition.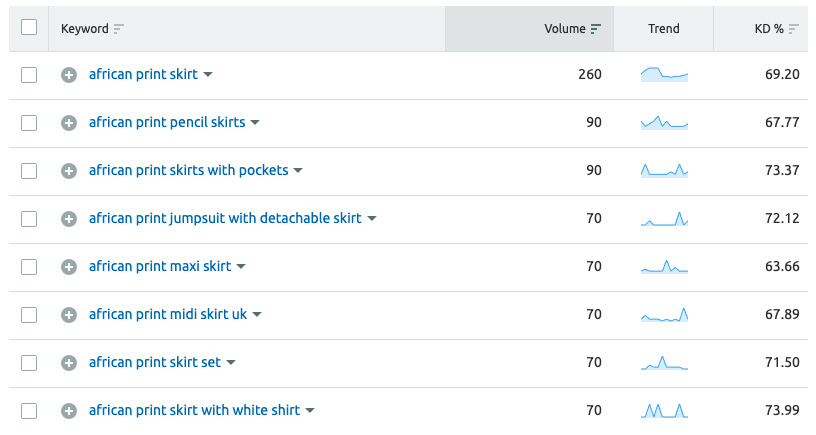 Buyer intent
Within our keywords, especially considering long-tail keywords comes intent.
Intent helps you target the most amount of traffic possible while also removing some element of competition. But the most important aspect of intent is focusing the traffic to your eCommerce site. After all, having lots of visitors doesn't always equate to more sales. Purchase intent does.
What we're talking about here is supercharging your sales funnel. Let's take a look at the sales funnel in more detail.
Awareness keywords
These are what you find in general blog content. You see a lot of people talking about these keywords, but are they relevant to eCommerce SEO? Well yes and no. They might help reaffirm your brand values or help drive traffic to your site, but they're not going to convert straight away.
Examples include:
Lists
Definitions
Why
What is
Interest keywords
When people are searching for a solution they'll use keywords that work around a subject matter. This of this guide as an example, others include:
Interest keywords for eCommerce can be useful for building helpful content for your potential customers. You should definitely jot down ideas for the future. They're perfect for brand building, especially reinforcing expertise and credibility.
Evaluation and purchase keywords
We all use these keywords during product search.
The evaluation keywords are used to find variable offerings around a specific product
Price comparison
Review
Cheap
Best
And purchase keywords hone down further. The searchers intent to find the very best deal or additional benefit. Purchase keywords include modifiers like:
Free shipping
In stock
Discount
Coupon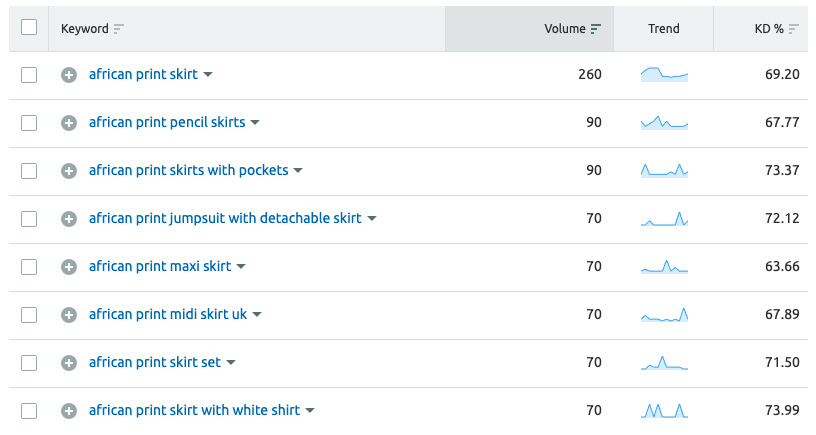 How to find eCommerce keywords for products and categories
Building a low cost website without doing proper research is the first step to failure. We use analytics tools such as SEMRUSH to help us do our groundwork. For those who haven't seen an SEO tool like this before, you should check it out. You can get a free trial to explore the power of what it can do.
If you're looking to rebuild your website on a budget, then you can use our free SEO audit tool. We make each report by hand, so it's tailored to your business.
SEMRUSH is brilliant for analysing competitors so you can see what pages perform well on search engines. You can also discover keywords that will inform your content. Why go around the block rewriting content at a later date when you can start with a bang.
On-page SEO audit for eCommerce websites
On-page SEO for eCommerce is where we focus on keyword placement. That way Google can understand your page better and rank it appropriately.
A good eCommerce website structure usually has two unique areas to optimise:
On-page SEO for eCommerce category pages
On-page SEO for eCommerce product pages
On-page SEO isn't just about page ranking, but also a well designed page will help you gain more Search Engine Results Page (SERP) features.
For eCommerce businesses there are two SERP features that you should focus on, Reviews and Images.
Reviews (Review Snippet)
The Google Review Snippet is an excerpt or rating from a review website or from within your own eCommerce review system. By using structured data (also known as Schema) you give Google the best chance finding valid reviews or ratings. In return they may show a rich snippet with stars or summary information.
This works for a number of different types of eCommerce products including books, courses, events, products and apps.
You don't need to be a coder to add markup to your site, once configured, tools like Smartcrawl Pro or YOAST! can automatically produce the Schema markup for you.
The bottom line is, by adding markup to your product pages,  you could boost Click Through Rate (CTR) by up to 35%. In addition, you can beat the algorithm if your competitors are spending a fortune on eCommerce SEO. A focus on customer care yields big results.
Images
Google's Image Pack show up on a SERP where Google thinks image results will enrich the user experience. Sometimes they'll be shown as a block at the top of the page, other times they appear alongside organic search results. When someone clicks on an image in the block, it will open an images search tab. This will then show more information about the website hosting the image.
There are two benefits to optimising your eCommerce website for visual search:
Create connections with new customers
Sell to customers who've already made a decision
So let's go through how your can optimise images for eCommerce.
Add structured data
When you add structured data to your website, such as product schema, you're providing the search engine with all the information relative to that product. This includes the image schema itself.
You can also assign any image with markup, either manually or by using a dedicated SEO tool like we mentioned above. Here's an example:
Add alt text
Alt text, sometimes described as an alt tag or alt description, appears when an image fails to load.
Alternative text is also an indicator for search engines, adding context to an image.
Try to make your alt text reflective of the content, so instead of writing say 'eCommerce SEO Audit example', use an alternative text string like: 'Example of a schema markup use for an eCommerce business selling products online".
Use filenames that are descriptive
It's always good practice to use a descriptive filename instead of a 'IMG_00923.jpg' rename it 'seo-audit-schema-example'.
The key message here is be concise but clear about what that file is, it's all about context at the end of the day.
Make sure your images size and file types are appropriate
Some people prefer to adjust image size within their Content Managment System (CMS), tools like Smush Pro do a great job.
Best practice however is to resize your images before you upload it. That way you're not serving enormous images on your site. In addition, you can really tweak the image quality and size in tools like Adobe Photoshop, so that quality is unaffected.
Of course, the most important factor about image size is load time, huge images load very slowly on 3G devices, and Google will spank you for slow loading times.
On-page SEO for eCommerce category pages
Category pages should be your top priority. They give the user access to all the products within that category.
Your target keywords should be in the following places:
1. In the URL
Your primary keyword should feature in the URL (for readability). This is a search engine ranking factor.
If you run a Shopify account, we suggest having a developer remove the '/collections/' string from the URL as it adds unnecessary length.
2. In the title tag (H1)
You should always aim for the primary keyword to feature at the start of your title tag (H1 tag).
3. In the body copy
Many product category pages jump straight into the product range. We suggest offering an overview 'synopsis' with your primary keyword included around 2 to 3 times. Aim for a maximum length of 300 words. Too many words and it won't be as user friendly, too few and it will look spammy.
4. In the image alt tag
As we've discussed, image alt tags are extremely important for Google to rate your site as accessible. It also aids the search engine understand the context your image.
5. Meta tags
Metadata doesn't directly impact ranking, but it does help improve click through rate. Be warned, if your meta description does not match your page content, Google will adjust it for you. This is not ideal.
On-page SEO for eCommerce product pages
You should treat product pages just like category pages except for one main difference.
Instead of 300 words, you should aim for 1,000 words.
You may have read that people suggest 2,000 words is the ideal length for SEO, we tend to agree with that.
So what makes up the other 1,000 words?
A few well considered product reviews and you'll easily reach 2,000 words.
On-page SEO for eCommerce blog pages
On-page SEO for eCommerce is where we focus on keyword placement. That way Google can understand your page better and rank it appropriately.
A good eCommerce website structure usually has three areas to optimise:
On-page SEO for eCommerce category pages
On-page SEO for eCommerce product pages
On-page SEO for blog pages
On-page SEO isn't just about page ranking, but also a well designed page will help you gain more Search Engine Results Page (SERP) features.
For eCommerce businesses there are two SERP features that you should focus on, Reviews and Images.
Technical SEO for eCommerce websites
Technical SEO is all about getting your house in order. It's about cleaning up your website giving Google bots the best chance of indexing your whole site. There's no difference between technical SEO for eCommerce and other types of website so take a look at our article on technical SEO to find out more.
Link Building for eCommerce websites
Link building involves the management of internal links throughout your eCommerce site. It is also involved in getting links from other sites to your own and vice versa.
For all things link building, you can visit our SEO link building page here.
Local SEO for eCommerce
Local SEO is particularly important for eCommerce stores that both sells online and has physical stores.
It's involved in using tools from search engines like Google My Business that showcase your business on maps, known as Google's local 'snack pack'. Local SEO also relates to helpful content featured on your website.